One word question
Each item on the Care Notebook is questioned by one word or a short phrase and employs 0-10 point linear analogue scale, resulting in good acceptability when self-administered or a minor effort when a paramedical staff helps to write it.
Care Notebook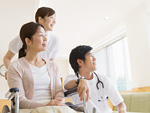 The questionnaire was designed for outpatients with cancer who were treated by both active treatment and palliative care. Initially, items for the questionnaire were derived by clinical oncologists, oncology nurses and cancer patients themselves with discussions. Only twenty four items that seemed to influence daily life of patients were selected. While, the questionnaire has a free comment column if a patient wants to communicate with medical staffs.
Following clinical practice, 10 items, 6 items and 8 items concerning Physical well-being, Mental well-being and Life well-being, respectively, were listed in the order.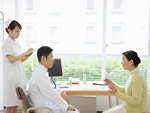 a) In terms of Physical well-being, symptoms those cancer patients often experience and are resolved by medical treatments are listed.
b) In Mental well-being, psychological conditions of anxiety, depression, irritability, anger and confusion are entirely listed.
c) Life well-being was very important to outpatients with cancer, and was divided into three subscales of Daily functioning, Social functioning and Subjective QOL. The Subjective QOL has 4 items concerning of global QOL, its satisfaction, happiness and spirituality.